Quality Electric Motor Repair Since 1972
Rocky Mount Electric Motor is a trusted electric motor shop that provides electric motor repair, predictive maintenance, new electric motors and a variety of other services to Eastern North Carolina. As an EASA accredited business, we are the certified team that you can count on. From emergency repair to general maintenance of electric motors, our team's professionalism and experience stand out. Known for fast and reliable service, Rocky Mount Electric Motor is here when you need us.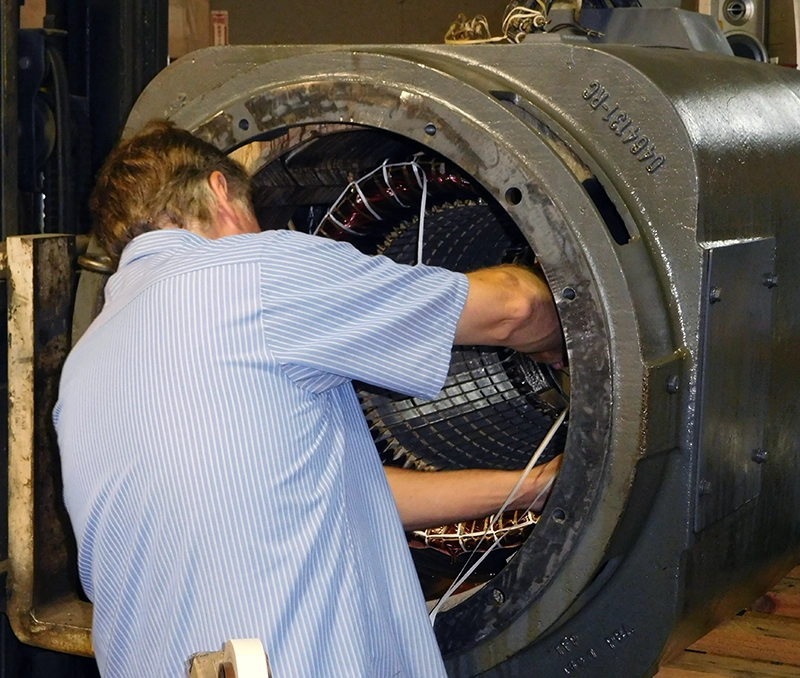 Predictive Maintenance
With our Predictive Maintenance (PdM) Program we can identify when your equipment needs maintenance to prevent failure. With our state of the art equipment and implementation of a combination of techniques, we detect internal wear that cannot be observed or detected otherwise.
Each predictive maintenance plan is tailored to your schedule, facility, services needed, and budget.
24 / 7 / 365
No matter the time or day, our team is ready to assist you. We do not use any answering service or automated answering systems. When you call, you will always speak directly to a representative or technician.
RMEM Commitment

We understand the critical nature of your business. We strive to provide the fastest, most reliable service in the industry. Whenever your operation is down, we work to get you back in production as soon as possible.
Knowledge and Experience

Our staff represents over 150 years of combined experience in the electric motor business. We also continue technical training and do refresher training to stay current with the latest techniques.
First, I really want to thank you and especially Bobby for the work he did for us this weekend. He really saved us because the soonest I could get a new impeller is about 1-2 weeks lead time. That press runs at a rate of about $1,000 per hour, and I could not afford keeping it down that long and Bobby stayed until it was good enough to run Saturday. It's not every company that is professional and feels the urgency like we saw with you this weekend. It is really appreciated.
Thanks for your prompt assistance in this matter. Again, thank you a LOT. This is an important piece of equipment that we had go down. You have definitely earned another customer.
Good shop for its size. Fast turnaround on single & 3-phase AC/DC Motors. An awesome crew that doesn't mind working hard and long hours to get the customer back running.
Purchase Order for the pickup and replacement motor delivered over the weekend. I want to thank you and everyone involved, in working so quickly to get this taken care of for us. Y'all really came thru! Feel free to contact me if you have any questions. Thank you for your service.